Outdoor rental
Light weight and ultrathin body.
Tool-free assembly and disassembly.
Seamless installation, error<0.1mm.
Good heat dissipation, without flat cable design.
Curved or round shape it's a option
Offline Message
Specifications
JCstage-outdoor
JCstage-O3.91
JCstage-O4.81
JCstage-O5.95
JCstage-O6.25
Pixel pitch(mm)
3.91
4.81
5.95
6.25
Pixel Density(dot/m2)
65746
43264
28224
25600
LED Type
SMD 1921
SMD 1921/2727
SMD 2727
SMD 3535
Module Size(W x H x D)mm
250 x 250
Module resolution(W x H)
64 x 64
52 x 52
42 x 42
40 x 40
Module Weight(Kg)
1.3
1.3
1.3
1.3
Power Consumption per Module(w)
50
50
50
50
Diver Mode(Scan)
1/16
1/13
1/7
1/10
Brightness(cd/m2)
≥4,500
≥4,500
≥4,500
≥4,500
Grey Scale(bits)
16
16
16
16
Refresh Rate(Hz)
≥1,920
≥1,920
≥1,920
≥1,920
Cabinet Size(W x H x D)mm
500 x 500 x 85
500 x 500 x 85
500 x 500 x 85
500 x 500 x 85
Cabinet Weight(Kg/Cabinet)
7.5
7.5
7.5
7.5
Max Power Consumption(W/m2)
800
800
800
800
Average Power Consumption(W/m2)
300
300
300
300
View Angle(H°/V°)
150°/120°
150°/120°
150°/120°
150°/120°
Mini View Distance(m)
4
5
6
6
Operating Use Temperature(℃)
-10℃~40℃
Storage Use Temperature(℃)
-20℃~50℃
Input Voltage(V)
100~240V
Input Power Frequency(Hz)
50Hz~60Hz
Failure Rate
<1/100,1000
Signal Input Format
SDI, RGBHV,YUV,YC,Composite,HDMI,DVI,SD/HD-SDI etc.
Life Time(hrs)
100000
IP Level(front/rear)
IP65/IP65
1. Product introduction
Normally when we talk about rental LED display, it means the LED display is for rental purpose. It is used for different kinds of events. The panel of the rental LED display is light weight, quick installation design, available for both hanging installation and stacking installation, etc.
This type outdoor led rental display is the best option for outdoor advertising, this rental LED display has some features and advantages that make it highly suitable for outdoor areas.
2. Product feature and application
Led rental display is with light weight,slim structure.It can be fast installed and dismantled with different types of shape and styles installations according to the site environment to meet your requirements.
★Light weight,supper slim,fast installation design,you can finish installations and dismantles within a short time;
★Support LAN cables layout randomly,meet different cabinets' order in vertical and horizontal direction to create various image effects;
★Equipment with professional processor,support AV,DP, DVI,HDMI,SDI etc signal input interfaces
★Support 256 level brightness and white balance custom-made adjusted to support the different batches display used at the same time;
It supports all kinds of format of videos and images.It can work in different brightness level and outdoor circumstances. Rental led display can also be used at stage, bank, promotion, exhibition, station, KTV, stadium, airport and other outdoor places.
3.Production details
1、Ultra Light: Weight7.5-12kg,one man's work for the installations.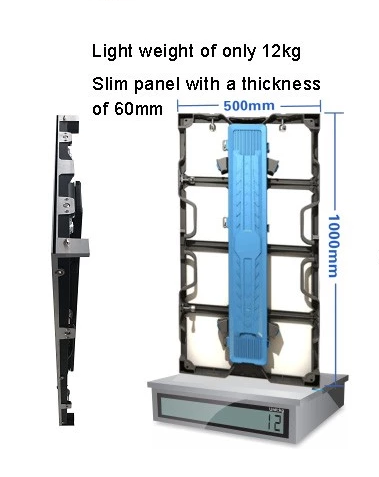 2、Ultra Slim:Die casting aluminum cabinet,high-impact,durable,and high accuracy,flexible for cost effective transportation.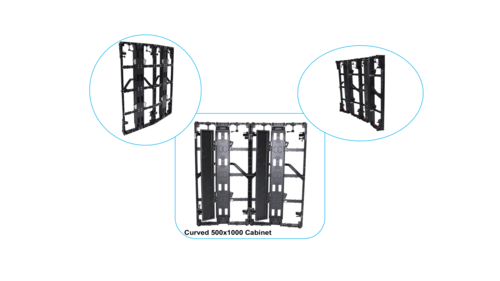 3、Fast:With up and down fast locking design on cabinet,finished installations in 10 seconds.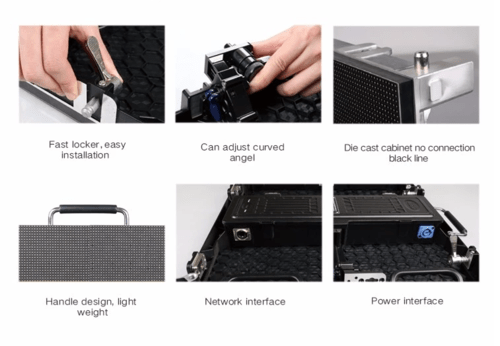 4、Flexible installation ways:hanging or stacking on floor.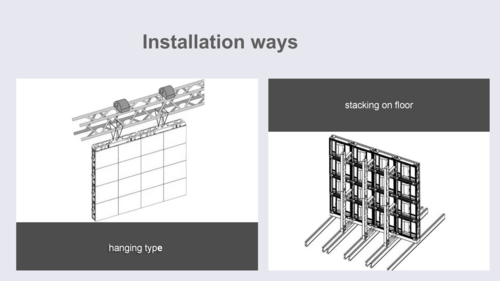 5、Multi degree curved lock, you can make any curved angle randomly