JC TTS
JC TTS-2.5
JC TTS-3.33
JC TTS-5
Pixel pitch(mm)
2.5
3.33
5
Pixel Density(dot/m2)
160000
90180
40000
LED Type
SMD2121(1921)
SMD1921
SMD1921
Cabinet Size(W x H x D)mm
1102 x 405 x 135
Cabinet resolution(W x H)
2sides ,each side:384x128
2sides ,each side:288x96
2sides ,each side:192x64
Cabinet Weight(Kg)
17
16
16
Diver Mode(Scan)
1/16
1/12
1/8
Brightness(cd/m2)
1500(4500)
4500
4500
Grey Scale(bits)
16
16
16
Refresh Rate(Hz)
≥960
≥960
≥960
Max Power Consumption(W/set)
380
380
380
Average Power Consumption(W/set)
110
110
110
View Angle(H°/V°)
160/160
160/160
160/160
Mini View Distance(m)
2
3
5
Operating Use Temperature(℃)
-10℃~40℃
Storage Use Temperature(℃)
-20℃~50℃
Input Voltage(V)
100~240V
Input Power Frequency(Hz)
50Hz~60Hz
Failure Rate
<1/100,1000
Signal Input Format
SDI, RGBHV,YUV,YC,Composite,HDMI,DVI,SD/HD-SDI etc.
Life Time(hrs)
100,000
IP Level(front/rear)
IP65 /IP65
Notice for user
1,Confirm the top part of the car could support the weight of the sign.
2,Confirm the car battery is enough for the led sign,if not than add extra .
3,LED sign power is with DC12V±15% and should check the positive and negative electrode.Yellow or red wire is positive and black is negative.
4,On and off
Turn on the swift, the power supply runs after 6 seconds and the controller works after 1 minute then the sign lights on(protect other equipment and assure the sign and car power system in safe condition) .Turn off the sign,the power will be cut after 2 minutes(protect the sign if the car flame out too often).
5,Cover with PC material should not use sharp solid tool to scratch, could use soft cloth to clean with detergent.
6,if need to change the control wire like backlight or switch way,should ask professional person to do it.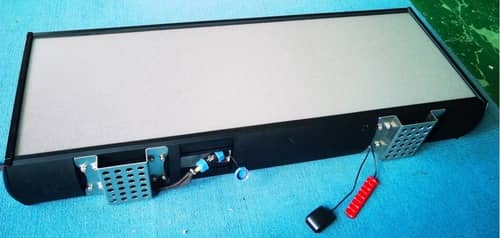 Advantages
1,Low power consumption with high brightness.
2,Patent structure design,aluminum case with oxidation treatment,coating film for unti-ultraviolet, outdoor painting for anti-rusting and anti-aging.
3,High transparent PC cover that not turning yellow color or old in 10 years
4,Patent design with high level power supply,beyond voltage,current load,short circuit will be protected. Also with delay switch function.Work in -40°C~+70°C environment.
5,Web control and could manage in anytime and any location through web browser. No need for download software.
6,With easy installation bracket.
7,Fast maintenance structure.
8,Customize with different.